Since I'm moving at the end of the month, I thought I'd like to take some pictures of my bedroom in the apartment I'm leaving behind. This weekend I started packing. Technically, I had started packing previously, but one or two boxes doesn't really count.
And, although I'm not nearly the lovely room decorator/dresser upper that
Megan
is, I'm posting the pics here for everyone to see: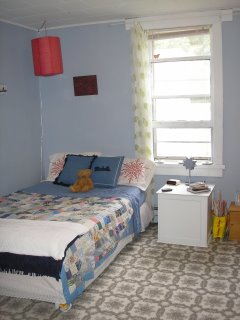 I had to go back in my archives to remember that the name of the paint colour is
Blue Haze
, and I still love it every bit as much as the day I moved in. This bed I got for free dollars from a friend who was moving back home, and thank goodness... because I had been sleeping on a cot mattress on the floor for 4 months and I couldn't afford a real bed or mattress or take the floor any more. The quilt I made the year after high school, with mostly a whole lot of fat quarters that I had bought at a quilting store in my junior high and high school years when I was really into making doll clothes and they had the perfect little patterns. The quilt is actually twin size, but I put it the wrong direction on this fullsize bed. I love those white and red "snowflake" pillowcases, I got them at Dollarama. Sometimes you
can
get good stuff there. The jean throw pillows I made over Christmas break in 99-00. The teddybear my parents' cat Blackey sent me my last summer working at WSC. The curtain I made last year out of fabric I got for $3 a metre at Fabricland. I love the green, but it doesn't really match anything else. In the window you can see the outline of a wooden sheep puzzle piece I found for 25 cents at a thrift store. Sometimes I wonder what happened to the rest of the puzzle. You didn't notice the grocery bag wrapped around the bottom of the bedframe did you? Good. It was a quick solution to not gashing my feet all the time on the sharp metal. I've just never gotten around to fixing it or putting something a little more appealing than a plastic bag. The bedskirt is supposed to hide it, but does a poor job.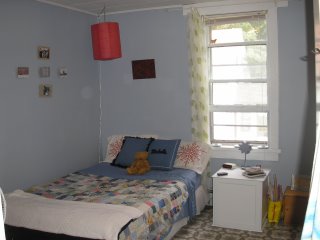 Close up of the photos and painting on my wall... the two barn pictures are from my Gramma's, the sheep and Jenny the dog are at my parents, the Laundromat sign is from Caronport (the town I went to college in). My friend
Mike
has that sign now that they've done away with the rules, and I want it. The painting is of Glasgow roses, I did it for a community art show in college, in I think 2001 or 2002. The hanging lamp I bought at the grocery store for $7 or $8 I believe.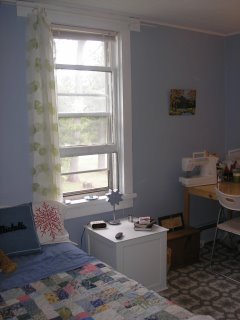 The white "box" bedside table is actually a cube, the top lifts off to store whatever you want. I keep bedding in it. I bought it for $10 on sale at the grocery store (excellent place to buy furniture!)... it was one of those "assemble yourself" kind of deals. The rice-paper shade star lamp I bought when I worked in Illinois for the summer in 2001... I think I'm actually going to get rid of it soon because I don't like it so much any more. It's getting a tad faded and dated. The alarm clock I was trying to remember how long exactly I had had it a little while ago because it's been
everywhere
with me... then I flipped it over and noticed it has the date "1993" written on the bottom. The little guy has hit his teen years!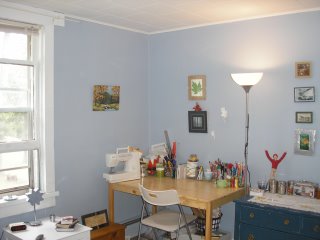 This is where I do pretty much all my sewing. And a lot of crafts. The table was the first thing I ever bought for my room and my "permanent" Ontario life. Coming from 3500km away, I didn't have any furnishings. So, I got my priorities straight and after a couple of days of living here, I went to Ikea with my sister who was visiting, and bought this table (it was cheaper than a desk and I didn't have much money) I also go the chair and the lamp. The table came unfinished, so I varnished it with a plain satin varnish. I wish Ikea hadn't discontinued those chairs, as now I need to get some "kitchen" chairs and I really would like those. My sewing machine is a Kenmore, from Sears. It works fabulously for everything I do, except the foot
always
falls off, but you just have to tighten the screw again. I have a ton of glasses and containers of paint brushes, markers, pens, pencils, pencil crayons, watercolour pencils, rulers, etc. etc. on top of my table. On the left above the table is an unframed paint-by-number (I always think I should get a frame for it but I've yet to find one that will fit well). The leaf painting I did when I was a counsellor at this
camp
in Maine in 1999. The photo below it is one I took of some poplar trees in winter on my parents' farm in 2002. Pretend all that junk isn't under the table. Nope. Nothing to see there. Move along. ;)
On top of the dresser on the right you'll notice: tablecloth I bought at Value Village back in my college days on a trip to Regina with the lovely Sarah Perkonig, Ikea man with handknitted red wool sweater and matching toque, Caboodles case from my friend Joanne for seminary graduation (who didn't want a Caboodles back in junior high?), cedar jewelry box I refinished in high school, photo frame Cory Loeppky got me one year for my birthday in college from the Pilgrim Restaurant's gift shop, and assorted tins from Ikea and garage sales. On the wall above the dresser you'll notice a picture of me and my Gramma from when I was 2, a photo of trees at my parents farm, a photo of my Great Grandfather's horses in 1916, and a photo of a daylily I took at the camp I used to work at (and will again in 2 weeks). The wire cat my friend
Jodi
's dad made me. And the little Chinese-style dress I bought at a dollar store a couple of years ago.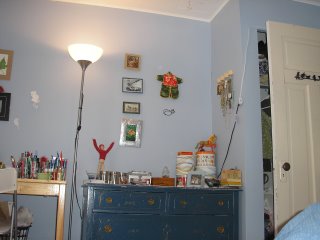 I bought this dresser at a local antique store, and at the time, I really liked it. Since then, one of the "original brass vintage chic" drawer pulls has broken, and I don't like it quite so much any more. Not because the pull broke, but because all of the drawers are warped and are hard to pull out and push back in too far, and I think the colour is barfo. I often think about painting the whole thing white, or a nice shade of ivory or ecru, but then I think maybe it would be too much effort. You didn't notice the dangling extension cords did you? Good. But I'll tell you that this is an old farm-style house... the wiring is crappo. There are only two outlets in the whole room, one is behind the fan, one is behind the bed.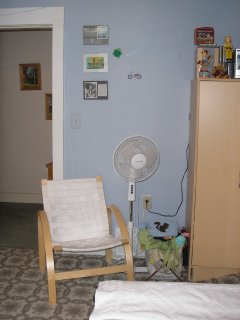 This chair was one of the first purchases I made to furnish this room when I first moved in... it cost $20 on sale and I got it at a grocery store (totally logical). Most of the time I like the way it looks (clean lines, nice pine), but it's not actually very comfortable. I almost never sit in it. Usually I just drop stuff on it when I get home from work(purse, jacket or sweater, etc.) and it stays there until I pick it up again the next morning. Beside the chair you'll notice the
magazine/yarn rack I redid
a while ago, full of
all this.
Above the chair is a series of mixed-media pieces I did while in college, and a plastic bath turtle, and a wooden motorcyle that you can buy pre-painted at Michael's craftstores. Oh yeah, and back there in the hall you can sort of see a couple of my favourite tree paint-by-number paintings from a local thrift store. The fan is leftover from the hideously hot summer days. It's ugly, but essential, on such days.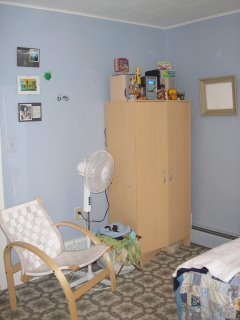 Final corner shot... the armoire I inherited from an apartment-mate that only lasted 2 months. It holds all my fabric and some other crafty-kind-of-stuff. On top it holds my stereo and assorted loveable knick-knacks from various places that I particularly love (the knick-knacks, and sometimes the places too, and most often the people/cats that have given them to me). The frame I found in a thrift shop with a super ugly and badly painted picture of a water-mill and what I think were supposed to be mountains, but I threw the painting out. At some point almost 2 years ago I put some embossed snowflake paper into it, and I've always meant to actually paint a nice painting for it, or frame something normal in it... but I've just never gotten around to it.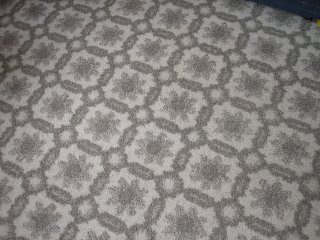 The carpet. Up close. Click to BIGGIE SIZE! Isn't it... bizarre? Every other carpeted room in this apartment has this sort of dark minty-green carpet of the early-90s variety. Except my room lucked out and got the oldschool snowflake carpet. When I first moved in I decided to do this sort of snowflake themed room, and I had a snowflake curtain and hanging snowflakes on the wall and in the window, etc. But it looked weird in the spring and summer, so I got rid of
all
most of the snowflakes and made a new curtain that was more flowery-fun.
Now that I've finished this post, I realize I have bought too much furniture at the grocery store.